Decades of experience and qualified personnel define us as the best option for your pet.
Literal translations is thunderstone
Dondersteen Dondersteen is a Dutch word that, figuratively speaking, refers to naughty little children that make you smile with their antics.
Literal translation is "Thunderstone"
The term describes exactly the two breeds that Dondersteen Kennel started with (which are Miniature Wirehaired and Kaninchen Dachshund and Norfolk Terrier), characterized as cute and adorable little devils.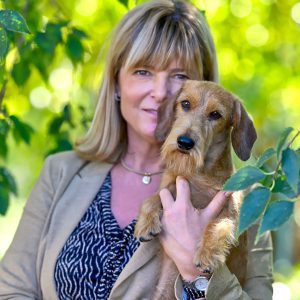 Since she was very young her great passion have been dogs and other animals. In love and proud of her dogs and their success.
Founder and owner of Dondesteen Kennel and Dondesteen Resort
Merlijn Brenninkmeijer is the creator of the cage-free dog boarding concept, which was born out of her empathy for dogs being locked up in a dog boarding kennel. Merlijn is a life-long animal lover, and she knew that there had to be a happier way to provide for the boarding of dogs.
She soon learned a very important fact: all dogs are inherently social pack animals. This means that they can get along with other strange dogs in a new environment as long as they are in a balanced pack.
She found that if you evaluate every dog first, and follow the steps of careful introduction, pack socialization, and consistent leadership, that a balanced pack can be created and maintained in a boarding facility 24-hours-a-day, which is the key to the success of the Dondersteen Resort formula.
Merlijn also has another wonderful attribute that has had a profound effect on the personality of Dondersteen Resort, and that is her belief that everything she does in life has got to be first class. Simply being cage-free was not good enough, and everything at Dondersteen Resort had to have the feel of a first-class resort.
The effect of this belief can be seen everywhere at Dondersteen Resort, and new clients have often been heard to remark"my dog is staying in a nicer resort than I am on my vacation!".«.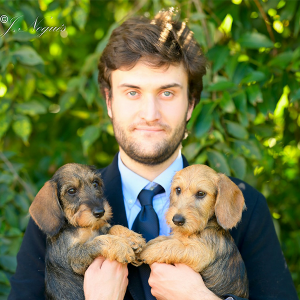 Pablo, apart from dogs, loves almost all animals, and you have birds, fish,….
Partner at Dondersteen Kennel and Resort
Fundamental piece in Dondersteen gear! Responsible and charming, he spends all day taking care of all the Dondersteen residents, making sure they are perfectly cared for at all times!
He was born in Valladolid, into a family dedicated to Alaskan Malamute breeding, his parents instilled in him a passion for animals, so much so that the first time he walked, it was to catch an English Bulldog.
From a very young age, he accompanied his family to dog shows, there he discovered the different dog breeds, and it was where he fell in love with dachshunds.
Thanks to his parents, he had the opportunity to compete in Junior Handling from a very young age, with only 7 years old he presented his first dogs, including Dachshunds, Pug, Alaskan Malamute and Afghan Hounds ...
Without a doubt, a dog that has left its mark on him was "RED" (MUltiCH. Prelude's Red Lady del Caroni), a wire-haired dachshund that Merlijn lend him to compete and train, and with which he competed in many exhibitions, including the World Championship Paris 2011.
Today, he has a grandson of her, "Buddy" and a great-granddaughter "Rania". Another of his favorite breeds is the Gos Rater Valencià, "Tonet" is undoubtedly his best companion.
Breeding of purebred puppies
Dondersteen started with the breeding of Miniature and Kaninchen Wirehaired Dachshunds and Norforlk Terrier
Our kennel, Dondersteen Kennel, has had multiple successes with both breeds over the years.
Counting with championships from several countries, group winners, BIS, Monographic, World and European winners.